October 17th, 2008
Our next International Symposium against Isolation will be held in Austria/Vienna, from 19th-22nd December 2008
It is almost a year now and we would like to issue our next call for an International Symposium to examine the political situation and the development of the social struggle against global repression. This year we have chosen Vienna as the location for the 7th International Symposium against Isolation. As before, the central theme of our conference is resistance to isolation practices, whether as a method of repression in the prisons, an instrument for criminalizing social and liberation movements, or as a means of pressure and threats against countries in the form of blockades and sanctions.In past years our symposia offered many sources of information on these central and basic human rights questions. Representatives from more than 100 organizations, from dozens of countries of the world, made speeches about burning issues like the right to self-determination and the legitimacy of the struggle against oppression and exploitation, and called for solidarity with this struggle.This year, too, we seek your support and participation for an effective meeting of various progressive, intellectual forces and to take common steps to break through the predominant censorship and win support for our project. The idea of setting up the International Symposia first arose in 2001, inspired by the long-term struggle and resistance of political prisoners in Turkey against an inhuman isolation regime internationally viewed as torture. In all, 122 people, mostly prisoners but after the expansion of resistance outside the prison walls, also families and friends were killed in resistance to this isolation policy between 2000 and 2007.The F-Type prisons, which were founded in Turkey in 2000 to serve as a new mechanism for putting isolation and solitary confinement into practice, encountered great resistance from a wide section of society. The prisoners announced resistance to being transferred into isolation cells and the state used military means to forcibly transfer prisoners into the F-Type prisons. In a large-scale military operation in 20 prisons, 28 prisoners were killed. This operation took place between December 19-22, 2000. This year's International Symposium is on those exact dates and has special significance. We will not overlook the opportunity to honor the victims of the prison operation on those days.We will also pay attention to the five Cuban patriots, the anniversary of whose imprisonment by the US authorities was marked for the 10th time on September 12. They are victims of a plot because they sought to protect their country from terrorist attacks by counter-revolutionary forces. The security of their own country and their fellow citizens was more important to them than their own security. For 10 years they have been kept in solitary confinement and even separated from their families, who have to wage a numbing struggle just to obtain a visa for a visit.There will be also a focus on the embargo against Palestinian people and the situation in the Middle East region, as an example of isolation towards countries.In many European countries there have been increasing restrictions on and attacks on democratic rights, as well as the consequences of the market economy such as increasing unemployment and insecure labour working conditions, and political asylum seekers in particular are endangered by racist "foreigner" laws which make it possible to deport them back to their countries of origin, where torture, imprisonment and the threat of death await them.The right to freedom of opinion and expression, and the struggle for democratic rights, above all solidarity with liberation movements, are also criminalized in many countries under the label "support for terrorism". So without any evidentiary basis people can be arrested on the basis of their beliefs and political activities, charged and subjected to other kinds of harassment. Recently there have been serious trials opened against political activists in different European countries, just as in Denmark, Belgium, in the Basque country, in France, Germany and even Austria.To discuss all these socially relevant topics, we have invited lawyers, members of parliament, intellectuals, families and friends of prisoners, as well as representatives of social, political and human rights movements. This year the Symposium will run from December 19 (Friday) to December 22 (Monday).Among our international guests there will be members of Basque human rights organizations, the president of TAYAD, lawyer Behic Asci, who has been on death fast against isolation for 293 days, the president of the Progressive Lawyer's Association CHD, lawyer Selcuk Kozaagacli, Ahmet Kulaksiz, who has lost two daughters during the death fast, as well as members of the trade unions DISK and KESK. Further there will be ex-political prisoners from Turkey and Ireland, members of the Irish Party Republican Sinn Fein, the Iraqi lawyer Sahar Mahdi from the Union for political prisoners and Iraqi prisoners, Mohammed Safa, director of the Khiam Rehabilitation Center for Torture Victims in Lebanon, Dr. Mariam Abu Daqa from the Developmental Women Studies Association in Gaza/Palestine, Patrick MacManus, representing the organization Opror from Denmark, Desmond Fernandes from Variant in Scotland, democratic lawyers from Germany and Belgium, representatives of the Association of the persecutees of the Nazi-regime/Antifascist Union, representatives of the Committee against §§129ab, Kostas Paplomatas and Makris Vasilis from the Federation of Primary School teachers DOE from Greece, John Hobson from the Haldane Society of Socialist Lawyers in Britain, Dr. Fritz Edlinger, from the Society for Austrian-Arabic Relations in Austria, Mag. Mustafa Akgün, member of the Society for Threatened Peoples in Austria, as well as the Austrian lawyer Dr. Lennart Binder and the ALBA-Netzwork Vienna. We have asked for family members of the 5 imprisoned Cuban patriots, as well as official representatives of Cuba and Venezuela.
There will be various artists and music groups participating to the cultural program. Some of those are the Irish political singer Ciaran Murphy, Grup Yorum from Turkey and the Latinamerican music group Sol Caribe.
7th International Symposium
against Isolation
19th-22nd December 2008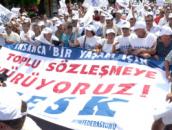 PROGRAM
Friday, 19th December:
Place: Amtshaus Neubau (Neubauer Grüne), Hermanngasse 25, 1070 Vienna
5.00 p.m. – 8.00 p.m.:
Migration and Human Rights
Part I: Migration policy in the EU and in Austria - Human rights situation of asylum seekers in Austria
Part II: Analysis of the human rights situation in the countries of origin 
Saturday, 20th December: 
Place: Haus der Begegnung - VHS Brigittenau, Raffaelgasse 11-13, 1200 Vienna  
09.30 a.m. - 12.30 p.m.
How to defend our fundamental rights and liberties?
Part I: Freedom struggle and Political Activism declared as Terrorism
with international guests from Denmark, Turkey, Ireland, the Basque Country, Germany, a. o. 
- Break Part II: When juridical struggle starts to be political 
With lawyers of defense from different European countries - Lunch break  2.00 p.m. - 3.30 p.m.The role of trade unions and their relation to democratic mass organisationswith representatives of DISK and KESK from Turkey, as well as the Federation of Basic school teachers - DOE from GreeceThe International Law and the struggle for Sovereignty and Independence - embargos and political sanctions against countries (5.00 p.m. - 7.00 p.m.) The Big Middle East Project Palestine - The way out of embargo and isolation 
With representatives of Palestine, Turkey, Lebanon
(8.00 p.m. – 10.00 p.m.) Cuba, Venezuella and our perspectives and common struggle on the basis of International Solidarity
Sunday, 21st December 
Address: Haus der Begegnung - VHS Brigittenau, Raffaelgasse 11-13, 1200 Vienna   
10.00 a.m. - 1.00 p.m. 
Political prisoners and the struggle for humanity
Part I: Report from the cages of the empire Live-video conference with an ex-Guantanamo prisoner
Part II: The Cuban Five - 10 years of illegal detention in the USA
Part III: Lawyers, relatives and human rights activists from Iraq, Turkey, England, the Basque country, Palestine and Lebanon will report about the systematical torture in prisons and the struggle.
* Message of political prisoners and organizations to the international symposium.
* Final resolution
***************************************
3.00 p.m.-9.00 p.m.
CULTURAL EVENT
VHS Meidling, Längenfeldgasse 13-15, 1120 Vienna
* Exhibition of caricatures, magazines and hand-crafted materials of political prisoners
* Short interventions
International Solidarity Concert
with Grup Yorum (Turkey), Ciaran Murphy (Ireland), Sol Caribe (Latinamerica), a.o. … 
Monday, 22nd December: 
11.00 a.m. - 12.00 a.m.
Press conference with the international delegates
2.00 p.m. - 3.00 p.m.
Manifestation in relation to political prisoners in Turkey, who were killed during the 19th-22nd December operation.
___________________________________________________________________
Organizer: International Platform against Isolation
http://www.ipai-isolation.info, email: isolation@post.com
in co-operation with the Turkey Information Center e.V.